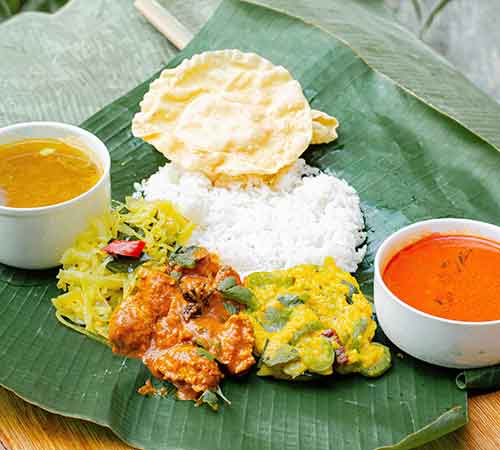 (Set) Set D – Venthaya Curry Banana Leaf
Story
Need something more than your regular curry? Our 'Venthaya Curry Banana Leaf' set is a special recipe blended with a hint of tamarind as a base to our curry. It imparts a slight bitter flavor but with a dash of masala, balances out the complex taste of herbs. The authentic flavors of the Venthaya curry compliments the serving of the 'Mok meat', a vegetarian meat suitable for our vegetarian eaters! Plus, you will be able to enjoy our special 'Snake Gourd Kuttu' & 'Vege of the Day' for that extra protein! Sounds healthy & delicious!
Pre-order (Set) Set D – Venthaya Curry Banana Leaf
Order Tips
Get Free Delivery
---
Get free delivery if you spend min. of RM50 in one delivery! (Same Day, Same Delivery Time)
*Discount will be applied automatically upon check out.